ABOUT
The UK's dedicated running injury site, fuelling your recovery with essential recovery info and great deals on all things running
The Truth About Running Health For The Young

Want to know about running for the young? Then there's probably no better person you could ask than Caitlin Chock.
Chock was a running childhood prodigy. She reached the 2004 World Junior Track Championships. And she set what was, at the time, the best time ever for a US High School 5k.
Before long, she had joined famed coach Alberto Salazar at the Nike Oregon Project – the very place where Salazar has had such huge success with the likes of Mo Farah and Galen Rupp.
Then running tragedy hit. In 2010, while out running, she was struck by a hit and run driver. Told she would never walk again, she did. And she doesn't just walk, the lady is back running again.
Let's turn back the clock to her running youth and hear Chock's own thoughts about running health for the young. (You can find more on the issue of running as a youngster in the featured video above.)
More reading on running for the young
More on this story below. For the latest running news, click here for daily running new updates and click here for breaking news.
1
Concerns over young endurance runners
Jun 08, 2014 - youtube.com -

23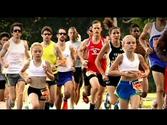 A video news story on whether or not some parents are going too far in encouraging their children's running.
Jun 08, 2014 - caitchock.com -

23

The official website of the remarkable lady.
Jun 08, 2014 - runnersworld.com -

23

A range of articles on running, penned by Caitlin for Runner's World.
Jun 08, 2014 - sciencedaily.com -

19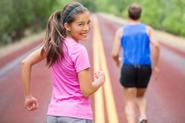 Details of a study suggesting that activity such as running can help preserve youngsters' memory and thinking skills when they reach their 40s and 50s.
Jun 08, 2014 - nhs.uk -

18
NHS advice on how to stay healthy, with the amount of physical activity required depending in part on how old you are.
Jun 08, 2014 - runninginjury.co.uk -

22

The thoughts of Caitlin Chock on running health for the young.
LIKE MORE?
Found this article interesting?


Access free tips, updates and private Members' Only sales by email:

Get access now

PS This is the easy way to gain access on a mobile - click the button above, then hit send when the email pops up. Job done.
...Or get the latest news from the world of running:
Share your thoughts