ABOUT
The UK's dedicated running injury site, fuelling your recovery with essential recovery info and great deals on all things running
Running Health: In Conversation With Jeff Galloway

If you're relatively new to running, then you need to about Jeff Galloway. He's the man behind the Run Walk Run approach to getting started with running. He's worked with over 200,000 runners to help them reach their running goals. And countless runners owe a successful marathon finish or two to the running legend.
Last year Anna Dickens spoke to the man himself. She found out the man's thoughts on how to run injury-free, as well as a whole lot more. That interview is today's featured article. (And if you fancy finding out a little more about Jeff's thoughts, check out the video above and the suggested resources at the bottom of this article.)
More reading on Jeff Galloway, Run Walk Run, and running for beginners
More on this story below. For the latest running news, click here for daily running new updates and click here for breaking news.
Jun 07, 2014 - en.wikipedia.org -

9

This is the Wikipedia version of the Jeff Galloway story. As the entry outlines, the athlete was a member of the 1972 US Olympic Team (at the 10,000m distance). He's still a competitive athlete, as a successful masters runner. But his impact on other runners is what has really left a mark.
Jun 07, 2014 - jeffgalloway.com -

10

The official website of the man himself, the creator of the famous Run Walk Run approach.
Jun 07, 2014 - active.com -

10

This article by Active.com argues that runners can gain control over tiredness by adopting the run-walk-run strategy. And that should be from the very start of long runs. The article also cites some evidence that the strategy will also help your running performance, with potentially significant reductions in marathon times.
Jun 07, 2014 - runninginjury.co.uk -

10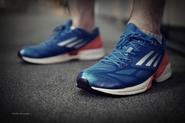 This is where we come in. RunningInjury is about two things. First, providing the information and gear you need to support your rapid recovery from any running injury. Second, giving you the best approaches for establishing a permanent fix to your running injury problems. And if you're new to running, here's the place to start.
LIKE MORE?
Found this article interesting?


Access free tips, updates and private Members' Only sales by email:

Get access now

PS This is the easy way to gain access on a mobile - click the button above, then hit send when the email pops up. Job done.
...Or get the latest news from the world of running:
Share your thoughts