ABOUT
The UK's dedicated running injury site, fuelling your recovery with essential recovery info and great deals on all things running
10 of the Best Running Stories (July 2014 – The Mobot and The Truth About Speed)
Welcome to your latest round-up of the breaking running news this week.
Below you'll find the top running stories on the web this week. But it's worth noting that the best – and particularly the most popular – running stories aren't necessarily the most comprehensive.
The most shared article about running injuries this week gives two simple pieces of advice to help runners struggling with shin splints. You can access that story by clicking below. Or read on for our top 10 running stories across the web this week.
2 Solutions For Your Stubborn Shin Splints

The best running stories on the web this week
Below you'll find our 10 of the Best list below. These are the stories we've been reading – including a couple on this very site! If you see any missing, why not leave a comment below. And for more running news, click here for the latest daily update or for breaking news.
Jul 07, 2014 - runnersworld.com -

25

A good running week for...senior runners. The Guinness World Record for marathons run in a year has been broken by Larry Macon - for the fourth time. The 69-year-old notched up a figure of 239 in 2013.
Jul 07, 2014 - runnersworld.com -

24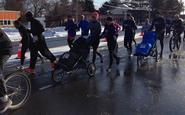 A good running week for...running common sense. Organisers of a race in upstate New York had refused to allow twin brothers diagnosed with the genetic disorder Duchenne muscular dystrophy to participate. That would have required their use of adult jogging buggies, against race rules. This week they finally saw sense and decided to allow the brothers to take part.
Jul 07, 2014 - ncbi.nlm.nih.gov -

22

A good running week for...women marathon runners. Unlike their male counterparts, female runners appear to have a canny ability to pace themselves throughout marathons, according to a new study.
Jul 07, 2014 - peerj.com -

19

A bad running week for the...Malcolm Gladwell. Do you really need 10 years (or 10,000 hours for that matter) of deliberate practice to achieve expertise when it comes to running? Interestingly enough, the latest research suggests that many sprinters may have been exceptional prior to starting to training. And world class status was achieved accordingly rapidly.
Jul 07, 2014 - scotlandnow.dailyrecord.co.uk -

21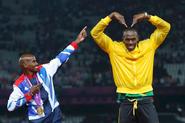 A bad running week for...The Mobot. Olympic and World Champion Mo Farah revealed that the days of the Mobot are numbered. A new celebration may be on the cards when he competes in the Diamond League meet at Hampden, Glasgow, just a fortnight before the Glasgow 2014 Commonwealth Games.
Jul 07, 2014 - runninginjury.co.uk -

19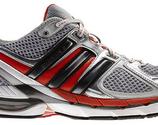 From a beginner's very first running shoe purchase to a seasoned pro's decision of whether or not to switch to barefoot running...it's all covered in 7 short minutes in this featured video.
Jul 07, 2014 - runninginjury.co.uk -

22

Is there an optimum style for running the marathon? And does the behaviour of the elite provide the ultimate guide for all other runners?
Jul 07, 2014 - runninginjury.co.uk -

23

There can be a fine line between pushing yourself and harming yourself. So what's a runner to do?
Jul 07, 2014 - bbc.co.uk -

24
A bad running week for...Tyson Gay. The disgraced sprinter was defeated by Justin Gatlin in the 100m at a Diamond League meeting in Lausanne. It was Gay's first outing since his recent drugs ban.
Jul 07, 2014 - bbc.co.uk -

20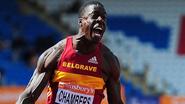 A good running week for....Dwain Chambers. The British athlete rose to the considerable challenge posed a number of talented young sprinters at the British Championships. He won the 100m title for a fifth successive time, recording a season's best performance in a time of 10.12 seconds.
LIKE MORE?
Found this article interesting?


Access free tips, updates and private Members' Only sales by email:

Get access now

PS This is the easy way to gain access on a mobile - click the button above, then hit send when the email pops up. Job done.
...Or get the latest news from the world of running:
Share your thoughts