ABOUT
The UK's dedicated running injury site, fuelling your recovery with essential recovery info and great deals on all things running
Barefoot Running: Is It Safe?
The science around the benefits or otherwise of barefoot running is mixed, writes Jon Anderson for Military Times, as coverage of the Vibram lawsuit spreads far and wide. But, for most barefoot runners, the appeal of minimalist running shoes remains undiminished.
Despite all the controversy, 70 percent of those who've purchased FiveFingers will continue to wear them according to a recent DealNews poll of more than 1,000 Vibram owners.
Other barefoot running stories
In other news:
Legal Newsline delves into the Vibram lawsuit in more detail. It notes that Class members will receive a refund payment up to $94 for up to two pairs of Vibram FiveFingers shoes. But that sum is dwarved by associated legal fees. Counsel will receive an amount that does not exceed 25 percent of the settlement fund, or $937,500, in attorneys' fees.
With impeccable timing, Nate Helming (Competitor.com) sets out three tips for runners considering switching to barefoot running. They're neatly summarised by: avoid the wholesale switch; read the signs; and there is no magic pill.
The list below gives a couple of earlier resources: from Runner's World, including on how to prepare for the transition; and from Running Times, with three self-assessment tests to help you decide if your body is ready to take on minimalist running.
In addition, our featured video is a classic, covering the work of Harvard professor – and keen barefoot runner – Daniel Lieberman. His research suggests that with barefoot runners tending to land on their forefoot, they generate less impact shock than other runners in sports shoes who typically land heel first. That, so it's argued, could minimise running-related injuries.
For a rather different, more humour-based examination of barefoot running, check out the video below:
Recommended reading on barefoot running
Have you come across an interesting article on the issue? If so, why not add to the list of useful barefoot running links below.
May 21, 2014 - running.competitor.com -

20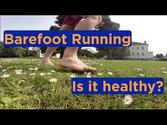 Nate Helming asks: Are you thinking about throwing away your running shoes? Are you excited about the prospect of going primal and feeling the earth beneath your feet as you run? Many coaches and athletes claim barefoot running can improve your efficiency and prevent injury.
May 22, 2014 - runnersworld.com -

17

The Runner's World view - Barefoot running, also known as minimalism or natural running, is simply running without shoes or running in thin-soled shoes. Running barefoot is considered to be the natural way of running and some entire cultures still foster this idea such as the Tarahumara in Mexico.
3
The Barefoot Professor (Nature Video)
May 22, 2014 - youtube.com -

19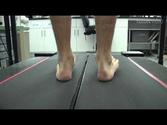 Harvard professor Daniel Lieberman has ditched his trainers and started running barefoot. His research shows that barefoot runners, who tend to land on their fore-foot, generate less impact shock than runners in sports shoes who land heel first. This makes barefoot running comfortable and could minimize running-related injuries.
May 22, 2014 - blogs.militarytimes.com -

16

Vibram settles FiveFingers lawsuit: 'Toe shoe' owners eligible for refund If you're among the more than 70,000 people who bought Vibram's popular FiveFingers "toe shoes," you could get some of your money back. The company has agreed to pay $3.75 million to settle a group of lawsuits accusing Vibram of false advertising, specifically its claims that the shoes could strengthen foot muscles while reducing running injuries.
May 22, 2014 - washingtonexaminer.com -

16

Vibram has agreed to settle a class action lawsuit for $3.75 million that claimed the advertising for its glove-line running shoes was false and misleading. The lawsuit alleged that ads for Vibram USA and Vibram FiveFingers running shoes included claims the shoes were able to reduce foot injuries and strengthen foot muscles and were "deceptive."
6
Are You Ready to Go Minimal? (Running Times)
May 22, 2014 - youtube.com -

20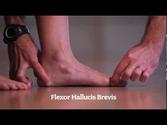 Three self-assessment tests to help you decide if your body is ready to take on minimalist running with Jay Dicharry, MPT.
May 22, 2014 - huffingtonpost.com -

16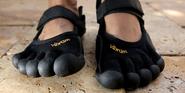 Jillian Berman writes:
From snake oil to supplements, Americans keep falling for shaky claims about health products. Blame our obsession with finding shortcuts to better health and fitness, and the many companies ready to take advantage of it.
News updates
For more topical running news, click here for daily updates or breaking news.
LIKE MORE?
Found this article interesting?


Access free tips, updates and private Members' Only sales by email:

Get access now

PS This is the easy way to gain access on a mobile - click the button above, then hit send when the email pops up. Job done.
...Or get the latest news from the world of running:
Share your thoughts